Reading Time:
4
minutes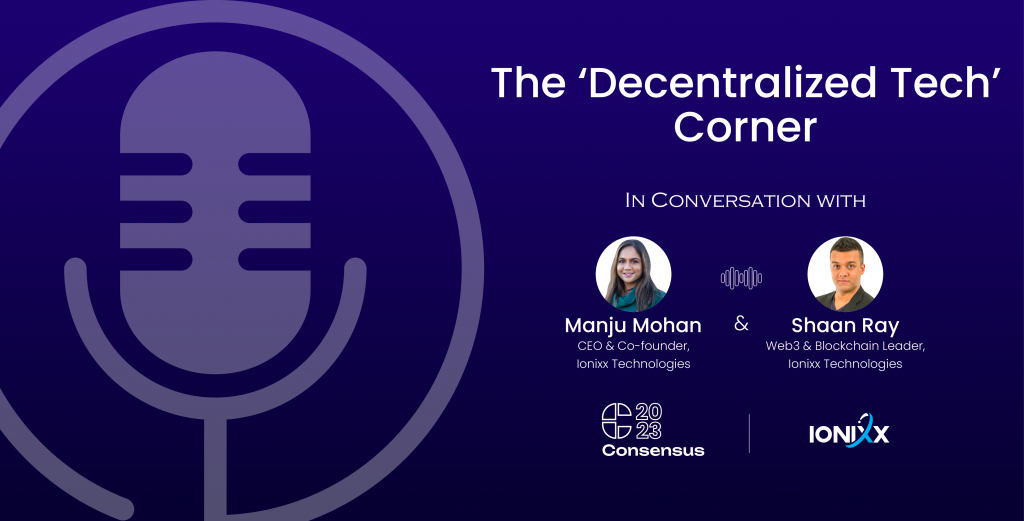 A melting pot of ideas, a diverse group of individuals from across the globe — including developers, entrepreneurs, investors, and policymakers sharing their insights and experiences — a community committed to bringing up the important conversations in web3 and crypto — The frenzy during the run-up to Consensus coudln't get any more exciting!
Attended by 500+ accomplished thought leaders across the globe, 112 countries, 10,0000 participants, and more – Consensus 2023 is the only event that brings builders from all sides of crypto, Web3, blockchain, and the metaverse under one roof.
As we wait with bated breath on what's to unfold at the world's most anticipated crypto and blockchain event of the year, we asked Ionixx' Web3 and blockchain leaders, Shaan Ray, Head of Web3 Partnerships and Manju Mohan, CEO and Co-founder — a few questions, on how the stage is set for a massive Web3 takeover!
Get your coffee mug ready and dive into an insightful read as they share valuable nuggets of wisdom on emerging blockchain use cases, Web3 governance models, challenges to building scalable solutions, and more.

How do we remove barriers to cryptocurrency adoption and what can we do to make it more inclusive?
Shaan – Building easy-to-use crypto applications with a simple user interface can break down the complexity that is usually associated with blockchain products and solutions. If we have to make good on crypto's promises of individual empowerment and inclusion; we will need to focus on creating simple, short onboarding processes that enable quick and seamless kyc verification. Integration of key security measures such as enabling 2-factor authentication and strong encryption are crucial too.
I'd imagine that these steps can potentially help ease the route to crypto adoption.
Besides this, it also helps if potential crypto users are given a comprehensive and realistic understanding of government policies, regulations, and taxation requirements.
Manju – The complexity of blockchain technology itself can be intimidating and difficult for many people to understand. Steps to cut through the complexity need to be taken at scale. There is also a burning need to build a crypto narrative and value system that promotes diversity and inclusion.
How do you see the future of money in the wake of the recent banking crisis?
Shaan – Clearly, the good news is that people are getting more and more comfortable with going digital and cashless. On the flip side, until legislation changes — we can't really predict any major moves to mainstream crypto; but we'll see people using more web3 / digital payments enabled use-cases.
In a world still dominated by TradFi, do you see DeFi growing – if yes, how scalable is it?
Shaan – DeFI will grow, provided the steps to defi adoption get simplified. At the moment, it takes a minimum of 4 steps to get from fiat into a defi project:
Convert fiat to crypto.
Register with a defi project.
Move the crypto to the currency accepted by the defi platform.
Stake the chosen currency into a defi project.
Unless this becomes a seamless process accessible with a couple of clicks, it becomes too difficult for widespread adoption.
"As for scalability, DeFi is built to be scalable but the roadblock in terms of the initial barrier to entry needs to be removed."
With ChatGPT stealing headlines globally, what do we make of its role in a Web3 world?
Shaan – Considering Web3 is currently in its enterprise adoption phase, there are going to be more utilitarian apps and solutions in this space. As for ChatGPT, I believe it will continue to dominate the headline for the next few years.
Artificial-Intelligence focused cryptocurrencies – hype or mainstay?
Shaan – Beyond all the current hype, AI focused cryptocurrencies are poised to help optimize web3 architecture. AI will also help with customer service related chatbots.
Which are the industries that you think will see breakthrough innovation with Web3 and blockchain technologies?
Shaan – I think the metaverse and all digital asset based spaces will be highly integrated with web3 use cases. Augmented reality applications will be intertwined with web3 and blockchain platforms. Gaming in all forms will be transformed with web3 asset ownership and crypto payment mechanisms.
As a woman in tech, what are the challenges in building accessible and inclusive experiences in the blockchain infrastructure?
Manju – The main challenges in building accessible and inclusive experiences in the blockchain infrastructure are the lack of diversity in the blockchain community. This can result in products that are not designed with the needs and perspectives of diverse users in mind. As I pointed out earlier, it is crucial to design blockchain products with a focus on user experience and usability. Diversity is an important parameter to pay attention to when building a better user experience for web3 products and solutions. Web3 builders will need to consciously create products that are intuitive, accessible, and appealing to a diverse range of individuals.
"It is vital to prioritize diversity and inclusion in the design and development of new Web3 products and solutions."
How is the industry pushing for more inclusion of women in web3 and how do we amplify the women's voices to catalyze web3 innovation?
According to a recent report by Outlier Ventures, only 14.5% of all blockchain workers are women. Additionally, a study by Deloitte found that women hold only 7% of executive positions in the blockchain industry. The gender gap in the tech industry is a pervasive issue, and the gap in the web3 space appears to be particularly significant. This may be due, in part, to the technical jargon used in the web3 space, which can be intimidating and make it difficult for newcomers to get started. However, I see web3 as a new frontier that presents several exciting opportunities for women to explore. With its decentralized nature and focus on inclusivity, it has the potential to break down traditional barriers and provide women with a platform to showcase their skills and ideas. I believe that doing the following will be a good starting point to address this disparity:
Showcase women's stories in mainstream media.
Create mentorship and networking opportunities.
Provide funding and investment opportunities.
Support events for women in tech.
That said, we recognize that the technical details of web3 can be complex, and that's where teams like Ionixx come in. As experts in the field, we are dedicated to building high-quality web3 products and solutions for our clients, leaving them free to focus on their core business.
If you are someone that believes in the revolutionizing promise of Web3, be sure to meet us at Consensus. We'd love to hear from you.
Book a meeting: https://bit.ly/3UW6K3c
Other contact coordinates:
Twitter @shaanray and @manjumo
LinkedIn: https://www.linkedin.com/in/manjumohan/ and https://www.linkedin.com/in/shaanray/