Reading Time:
3
minutes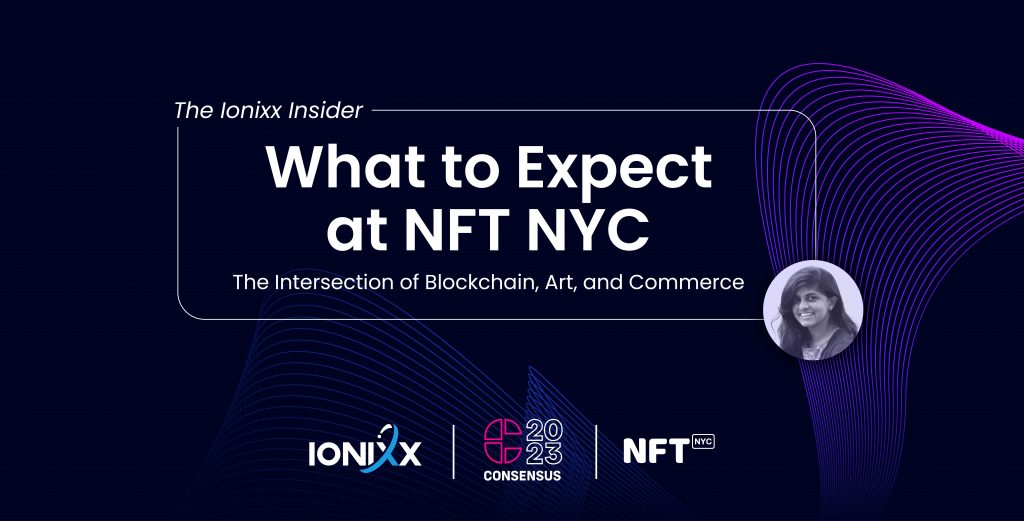 It's that time of the year when the Web3 industry is buzzing with energy, enthusiasm, and maybe a little bit of skepticism. As NYC prepares excitedly with billboards of popular NFT images popping up across the city, April's looking packed with NFT NYC and Consensus — the two most anticipated blockchain and cryptocurrency events, just around the corner!
Needless to say; at Ionixx, we have been clearly upbeat as our co-founder, Swathi Mohan and our Web3 Leader, Shaan Ray head to NYC to catch all the action live. With a promising agenda, an interesting lineup of speakers such as Sebastian Oddo from Mastercard, Grace Kyne from EY, and Rakhee Miller from Mojito among others, an incredible list of sponsors – NFT NYC and Consensus seem like a complete package.
At the two big crypto events of the year, here are some talking points that we believe will create quite the noise.
Greater crypto adoption in the long run?
We are definitely betting on how the bad rap for crypto is fading away even as it moves closer to institutional adoption. The way we see it, traditional financial institutions may start considering crypto as a collaborator more than a competitor, given its open and transparent nature, modern tech stack, and of course its ability to create the scope of a revenue uplift.
On that note, here's a piece Shaan wrote on how the US banking crisis has sparked conversations in that direction, opening up an avenue of interest, and perhaps, even led to a surge in adoption of cryptos and digital assets.
Challenges along the way
At these industry roundups, although the positive buzz is great for starters, what seems more important is to carry the momentum and translate it to real-life blockchain use cases in a cost-effective and sustainable manner. Particularly interesting is to see how cryptocurrency and blockchain technology can be ingrained into several business models across verticals such as healthcare and supply chain.
NFTs beyond PFP: Unlocking value beyond novelty
At Ionixx, we've been deeply associated with the NFT world for the last few years, and we believe that we're on the cusp of something truly revolutionary. NFTs will unlock a fantastic world of utility, by leveraging the premise of decentralization and individual ownership. NFTs have mind blowing potential to create sustainable use cases in the financial world such as automated, middleman-less dividend payments, and immutable/fraud-free records for insurers. The onus is on Web2 companies to make NFTs usable so as to help NFT owners unlock physical experiences, leading to a mass adoption of NFTs.
However ,what remains to be seen is how regulators wield power and if increased scrutiny may in fact play spoilsport to significant progress.
With AI in the mix, is the stage set for a decentralized digital economy?
A decentralized digital economy is shaping up at the intersection of AI and NFTs. AI-led automation carries potential to assure a better functioning of NFT marketplaces.
The bottom line:

We are excited to make the most of the event and dive deep into the potential of digital assets – transforming the way we think about creativity, ownership, and value in the digital age.
Trust us – this is going to be one wild ride into the future of digital assets – and we can't wait to see how it all unfolds into the future.
Get in touch with us if you found this interesting, have an additional insight or a contrarian view to share. We would love to hear from you.