Reading Time:
3
minutes
Multi-exchange crypto trading platforms are being touted as a one-of-a-kind technological innovation in the crypto trade industry. These platforms have a single unified interface that collects data from various exchanges, enabling crypto traders to trade from multiple exchanges through just one single application.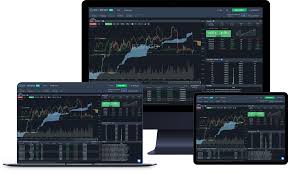 Image Source: Google
In recent times, the demand for this kind of cryptocurrency trading platform has been on the rise, we've seen an influx of users on platforms like Coinigy where traders are able to connect with more than 45 exchanges. Why the sudden demand for such platforms? In an effort to try to mitigate crypto trade risks, most cryptocurrency traders diversify their portfolios by putting money on crypto assets across multiple exchanges. Trade volumes and differences in exchange rates and coin values are also leading factors that drive traders to own multiple accounts. Therefore much value lies in an application that can house as many crypto exchanges under one platform.
Multi-exchange crypto trading platforms simplify the crypto trader experience in more than just one way.
1.Offer Real-time Alerts
Given that innumerable exchanges work in the global crypto space 24X7, handling endless crypto tokens every hour makes it nearly impossible for traders to get an accurate overview or a comprehensive analysis of markets. State-of-the-art technologies in multi-exchange crypto trading platforms supply traders with real-time alerts on market data. Highly volatile crypto prices can make decision-making a complicated process for crypto traders, integrated systems of sending and receiving sector-specific notifications can help compare token prices across exchanges. Top cryptocurrency trading platforms like Trade Station Crypto bring advanced charting, real-time market data, and free crypto data to benefit their customers.
2.Facilitate Ease of Use and Effective Management of Time
With the absence of necessary crypto trading tools, strategies, and systems in place, traders are overwhelmed by the fluctuating market conditions of crypto trade – crypto trading platforms provide effective management of time and energy for traders. Crypto tools available on these platforms simplify the user experience as well as the overall trading process.
3.Help in Insightful Decision Making
As traders simultaneously place orders from different wallets spread out over many exchanges, it's challenging to keep track of each of their performances – whether they are building up on coins, losing them, or just touching break-even points. Operating through a cryptocurrency trading platform offers a single portfolio management system that can track traders' assets in all exchange accounts they own. Users are able to make more insightful trading decisions with the information provided by relevant tools on the platform through applications like an automatic portfolio tracker. For example, on Atani, users can take advantage of intelligent tools like Fibonacci, Gann Indicators, Elliott Wave Analysis, etc. for finalizing their 'buy and sell' orders.
4.Help Mitigate Risks Involved
Choosing the right crypto trading platform is the key to mitigating the risks of trading on multiple cryptocurrency exchanges, especially for new entrants. Crypto trading platforms like eToro, Atani, and others, give users the option of customized risk management. Via these platforms, crypto traders can utilize their customized risk management systems through diverse order types – 'Take Profit', 'Stop Trailing', and 'Stop Loss' orders.
When the 'Take Profit' order is activated, it guarantees that a position is closed at or higher than a predefined price point. The 'Stop Loss' strategy, on the other hand, caps the maximum loss a trader encounters on a position on a digital asset. As token price falls below the stop price set by a user, the 'Stop Loss' order gets triggered. Under these circumstances – the market order closes (sells) the position at an available price below the 'stop loss' level. Once they have a grasp of it, crypto traders can use relevant applications provided by crypto trading platforms to balance the risk-reward ratio of their crypto assets.
In the immensely active and volatile crypto market scenario, identifying a reliable crypto trading platform is imperative for crypto traders to be able to track relevant market movements and gauge their impact on respective portfolios.
Conclusion
Crypto exchanges like Coinbase and Binance offer almost all provisions of the crypto trade that investors may need. To its credit, Coinbase has steadily gained the reputation of being the most user-friendly exchange around. It is safe to say that crypto trading platforms definitely add value to institutional traders in the long run.
Do multi-exchange platforms stand in the way of the functioning of exchanges? Not in the least. In fact, these interfaces work in tandem to make the crypto journey as smooth as possible for their respective clients.
Looking to build your own multi-exchange crypto trading platform? And don't know where to start? Get in touch with our team of experts and developers right away!